I haven't yet read Andreas Malm's recent and exciting-looking book (
Corona, Climate, Chronic Emergency
), but I will soon. Meanwhile, here are my thoughts on
an interview he gave for Jacobin
earlier this summer. He presents a great diagnosis of the COVID-19 crisis so far, and I agree with much in it – for instance when he points out that social democracy has no concept of catastrophe. But ecological war-communism? My take is that, yes, a massive state intervention to stave off climate catastrophe is needed, but it is just as unrealistic to expect it to succeed as it is to put hope in market mechanisms. Why? Because such intervention goes against the interests of the elites that run not only the economy but also the state. We are therefore more likely to end up in post-apocalyptic breakdown rather than in a state-led rescue of the climate. That doesn't mean that we should abandon the idea of revolution. The struggle for a socialist future must go on even when everything falls apart. Today we might feel that we have a choice between socialism and barbarism, but this choice isn't made once and for all. Even if we end up in barbarism we mustn't give up hope in socialism.
I'll add some of my thoughts on the future, pasted from a text I wrote last year. Depending on how responses to the climate crisis unfold, I imagine that three different scenarios are possible when looking at the so-called developed world:
Transformative response: Politicians and society at large respond in an adequate way, giving us a chance of breaking with the pathway towards catastrophe. This response involves a massive transformation of the economy in order to stop destructive practices and channel investment into alternatives, massive investments into adaptation, and massive transfers of wealth to further socio-eonomic justice and prevent social disruption. The transfers are needed to "democratize survivability" (Clive Hamilton) and uphold at least a semblance of egalitarianism and social solidarity. This scenario implies a revolutionary break with the socio-economic system as it has functioned for centuries. Resistance from elites will be fierce. In addition, mass protests can be expected if the transition is carried out without consideration for the material interests of ordinary people. Unfortunately, this scenario is unlikely in the absence of strong social movements and a unified public opinion committed to ecological concerns and socio-economic justice.
Business-as-usual: this response involves stepped-up efforts to manage climate change but within a framework set by existing institutions and prevailing practices. Drastically raising prices (e.g. of fuel) or imposing other burdens on ordinary people is avoided out of fear of mass protests. Transfers of wealth from elites is also avoided since the elites are too powerful to be challenged. This scenario is highly plausible. However, since it fails to address the causes of the crisis it risks leading over to the third scenario.
Collapse: important social functions break down. This can happen both through direct environmental factors (global temperature change affecting agriculture, water supply, contagion, extreme weather, rising sea levels etc.) and indirectly, through escalating political and social crises (breakdown of global international order, political turmoil, social unrest, rising criminality, civil war, interstate war, increasing poverty and polarization, mass migration). This too will involve radical transformations of the socio-economic order but in a largely uncontrolled and chaotic way. Preparing for this scenario will be difficult, but must include organizing at grassroots level, community-building and local experiments in small-scale "resilient" living.
The first scenario implies a radical transfer of power to the state. The logic of this scenario points in the direction of what Joel Wainwright & Geoff Mann call the "climate Leviathan" and what Malm calls ecological war-communism. But as should be clear from my notes, I believe the third scenario is more plausible. Nothing can be predicted with certainly, of course, but it would be foolish not to prepare for all scenarios. When I write prepare, I mean both on a personal level - in regard to how to conduct our lives - and politically, in regard to how to wage the struggle for a socialist, non-barbaric future. Here's my suggestion: we should do what we can to pressure the state to follow the first scenario, but let's not despair if we fail - for it is, unfortunately, likely that we will fail. We shouldn't despair, for there's another struggle we should be engaged in at the same time, namely the struggle against the injustices and the suffering that are likely to follow from the third scenario.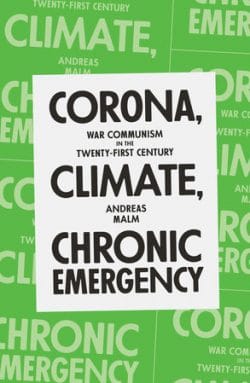 Addendum (2021-01-06): I've now read the book. It's great - but my assessment above still stands!